Vacuum
To remove dirt from large surface mats, vacuum them regularly. Vacuum both sides of the rug, if reversible, to ensure complete removal of dirt or grime that could lead to the carpet being ruined.
Shaking Small Rugs
For small rugs, it isn't necessary to vacuum them. Simply remove and shake vigorously to remove dirt and grime. There are regulations in some areas related to shaking outdoor rugs, so be sure to check local codes first. Also, check if the edges aren't torn to make sure you don't hurt the rug in this process.
Remove Hair With A Brush
Sometimes vacuuming may not get rid of stubborn particles, such as pet hair. To remove such stuff, brush the rug repeatedly on the carpet cloth. Then, pick up any hair that's been missed with your hands.
Turn Rugs Periodically
In general, heavy traffic and the sun can add additional stress to the rugs causing them to wear out quickly. Turn them at least once or twice a year for even wear and to help protect them from fading from one side.
Use Detergent To Remove Stains
If your carpet becomes dirty or wet, you should quickly remove moisture from the rug as quickly as possible. Most stains such as alcohol, soda, coffee, tomato sauces and greasy stains can be removed using a detergent blend. First mix your favorite detergent with water, apply on the stains and then rinse. Do not rub the stain with force. Instead, dab it until everything goes out.
How To Clean Special Types Of Rugs
Some types of rugs require special cleaning and care. Here are some tips on how to clean some unique rugs:
Cleaning Of Braided/Woven Rugs
Before cleaning the woven/braided carpet, check for any seams. Keep in mind that some small woven rugs are not washable, so you should first check the labels before washing them. Rinse well and dry with a low-temperature drum.
For larger rugs, place a blanket underneath them or simply place them on vinyl floors. Apply commercial rug cleaning foam to the surface according to the instructions and rub well. Rinse or soak. And obviously, be sure to dry the carpets before placing them back on the floor.
Cleaning Of Natural Fiber Rugs
Rugs made of sisal, coir, and grass come with an open cloth that can allow the dirt to be trapped in the ground underneath. They need to be frequently suctioned (vacuumed) and folded (most natural fiber mats are reversible) to make sure there is even wear. Also, lift the carpet from time to time and clean the floor too.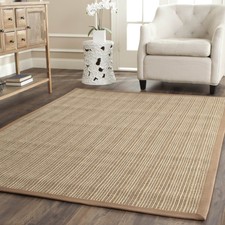 When cleaning stains on a regular natural fiber mat, do not replace them. Instead, put a towel and a plastic cloth to protect the floor from underneath and clean it with a soft brush with soapy water and then gently wipe the stain. Rinse well with clean water and place a towel over the wet area. Be sure to thoroughly dry the mat. For this purpose, consider using a hair dryer or portable fan to speed up the process. Water usually weakens the fibers, so try to work quickly and make sure the rugs are completely dry to extend your rug life.
Some natural fiber rugs can be built into many squares that are sewn together. Consider buying additional squares that you will use to replace a square that has been completely colored.
Cleaning Oriental Rugs
The new oriental rug should be vacuumed in the same way as wool carpets. Be very careful when dealing with delicate vintage and antique rugs. Place a nylon screen over the rugs to protect them and clean it on the screen. Alternatively, you can cut a piece of nylon mesh and tie it over the vacuum attachment. Change the net as soon as the dirt accumulates.
Oriental rugs should be professionally cleaned at least once a year and rugs should rotate regularly to ensure they are evenly worn. When buying antique rugs, you may want to ask the seller tips on how to take care of them.