Area rugs are versatile and attractive floor pieces that come in a variety of materials, colors, and designs. Importance of rugs has increased with the passing time since they create a focal point in a room while at the same time unifying the room design.
A round rug is quite strategic as it creates a feeling of coziness and comfort in whatever area it is placed; especially if it's a shag rug. Given its shape, the round area rug can fit in any room of the house like the dining room, sitting room, and the bedroom.
What are the benefits of decorating a room with a round area rug?
When it comes to room decoration, it is advisable that you go beyond the ordinary. You do not always have to buy the regular rectangular or square area rugs. Here are the benefits of using a round rug:
A round area rug absorbs and offsets the regular shape of the walls, doorways, floors, and furniture. It brings out the contrast in shape and surprises the eye, that is used to seeing boring rectangular shapes.
The round shape creates an inviting space and makes the area a focal point. It directs some form of attention to that particular area and makes it an intimate conversation area.
A round area rug gives your room a designer look. The shape can successfully draw attention to other elements in the room such as the lighting, furniture, and other accessories in the room. It thus makes the room look lively and inviting.
If you want to portray a rich mode of character and luxurious living, you will never go wrong with round area rugs. They portray a sense of class and style and they will make your house look sophisticated.
Round area rugs work on the vision and make small rooms look bigger. If you live in an apartment, this kind of rug is perfect for you. The circular nature naturally absorbs and softens the hard furniture edges making the room look attractive and spacious.
The round shape opens up many possibilities as it creates symmetry and a sense of balance, thus creating unity of the surroundings.
Tips on how to choose the perfect round area rug:
If your aim is to create a focal point, choose a rug that has a design like a medallion at the center. It will draw attention and make the area the main stage.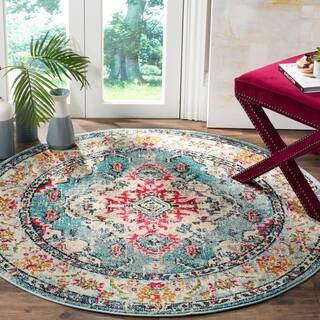 If your furniture or wallpaper upholstery has a busy pattern, use a rug with a mild pattern so that the two don't clash.
However, if the upholstery is plain, get a rug with bright colors and a visible pattern to lighten up the room and successfully create a focal point.
If the room is small, and you want it to look bigger, use a rug with bold patterns, large flowers, and an abstract design.
Generally, rugs are a great addition to a home as they make the house look beautiful and welcoming. Take your time in deciding the color, size, material, and texture before purchasing a new rug. Remember that some rugs are so beautiful that you wouldn't want them to wear out too quickly. Do not place them in high traffic areas. In fact, you can hang them on the wall and the results will still be amazing. Try round area rugs today and you will marvel at the look of your house.